Agroecology 4 min
Feedipedia, an online encyclopaedia of livestock feeds
Feedipedia is an open access information system on animal feed resources that provides information on the chemical composition, nutritional value and safe use of livestock feeds available around the world. In particular, it gives livestock farmers in warm regions access to information so they can better use the many local plant species available to them. It is managed jointly by INRAE, CIRAD, AFZ and FAO.
Published on 05 December 2019
Efficient use of animal feed resources is a high-stakes priority for sustainable livestock farming, especially in emerging markets where meat consumption is rapidly increasing. Warm regions boast a wide variety of plants, starchy tubers and fruits, protein-rich plants, grasses and pulses that can all be used in animal feed. To make optimal use of these local resources, livestock farmers need precise information about their nutritional value to develop balanced rations. While national feed tables have existed for many years and are regularly updated in temperate countries, tables aimed at tropical and subtropical countries are hard to find. These countries must often rely on data collected in temperate countries or use unreliable, out-of-date sources. This is why INRAE, CIRAD and the Association Française de Zootechnie (AFZ) have developed the joint project Feedipedia, the first online encyclopaedia that brings worldwide data on the subject together in one place.
Detailed information on numerous feed sources
The encyclopaedia has been online since November 2012 and is continually adding new information. Over the long term, it will provide the characteristics of all feed sources, from the most traditional (wheat, maize, soya) to lesser known sources (snail and frog meal, sheanut, kapok). Available resources are extremely varied. For instance, despite its thorns, the Barbary fig is an excellent source of water and food for livestock in arid areas. Blood collected in slaughterhouses, when heated and dried, is used in certain countries to enrich feed rations for ruminants, pigs, chickens and even silkworms. In 2019, the site contained more than 700 data sheets.
Each sheet provides a summary of useful information on the feed source: description, distribution, preparation, and nutritional value in table form. Details include the chemical composition of the food source (protein, fibre, sugar content) and its digestibility (percentage ingested and retained by the animal) for different animals. Under maize, for example, users will find data for twelve types of grains according to origin (e.g., Europe, Africa) and preparation (heating, etc.). The data sheets also indicate the environmental impact of cultivation, whether positive or negative, potential constraints (presence of toxic substances) and precautions for use. This information will be updated and elaborated regularly to provide the most complete feed assessment possible based on multiple criteria.
An ambitious compilation project
Feedipedia is the result of two projects being combined. First, INRAE, CIRAD and AFZ began compiling the tables for warm regions in 2009. Later, the data was put online by the FAO on the Animal Feed Resources Information System (AFRIS) site, now replaced by Feedipedia. More than 25 scientists and engineers from INRAE, CIRAD and AFZ are working on this project. They gather, analyse and compile the data published each year, collected via contacts all over the world. The site is in English and can be automatically translated via Google Translate into 57 languages. It features a bibliography and links to online resources, including 34 feed/plant databases (tropical forage, grassland species, invasive or toxic plants, and more).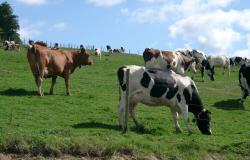 Feed tables for temperate countries
Animal feed tables
Animal feed tables provide essential information used to calculate rations and assess production levels given an established ration. They have been improved on a regular basis since 1978.